Fitness Tracker/Wearable Integration
SenSight team has experience of integrating variety of connected devices into Cloud based analytics and monitoring applications. As part of our Connected Insurance Platform for Auto and Health Insurers, SenSight offers integration of personal wearable devices such as Fitness bands and Activity trackers into the Platform. This enables Insurer to encourage healthy living practices amongs its customers and also reward customers who are making positive progress in their health and fitness regimes.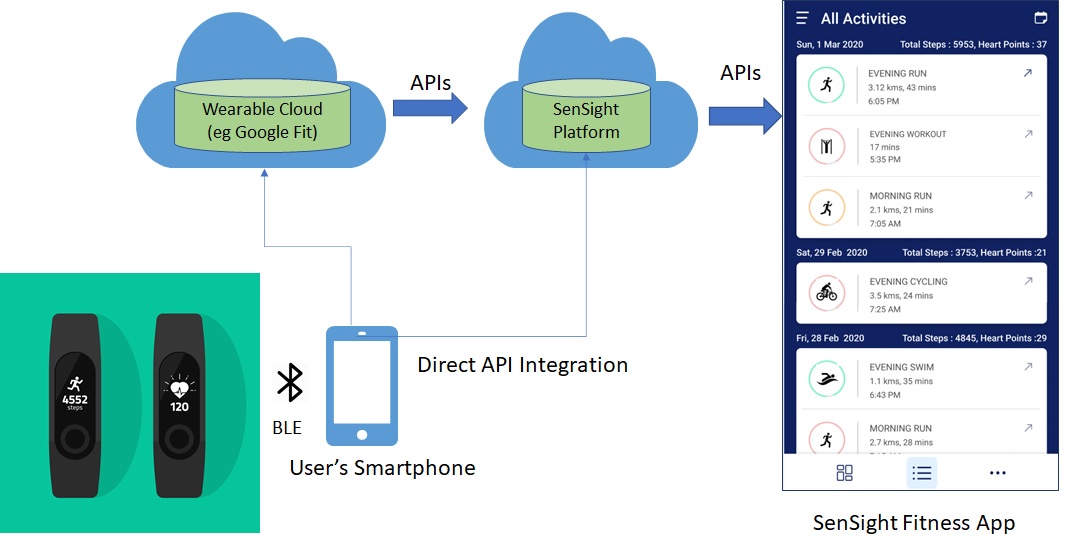 Flexible Integration Options
Based on the business requirements, we offer multiple options to integrate wearable devices to SenSight's Platform.
SenSight can provide an end to end wearable offering including hardware devices that are directlt integrated into SenSight's Connected Insurance Platform. Here we work closely with the wearable device maker and integrate its SDKs or APIs with our Platform directly.
Alternatively, SenSight can integrate other popular fitness bands by Cloud API level integration with their native cloud store or aggregators like Google Fit Platform. This approach enables end customers to continue using their favourite fitness band App while at the same time enable sharing of relevant information with the Insurer.
SenSight's Connected Insurance Platform can then process, store and analyze the fitness data and present progress and trends to the user in a intuitive manner. This includes a daily log of the various fitness activities, including quantification of steps taken, calories burnt and amount of time spent doing these activities.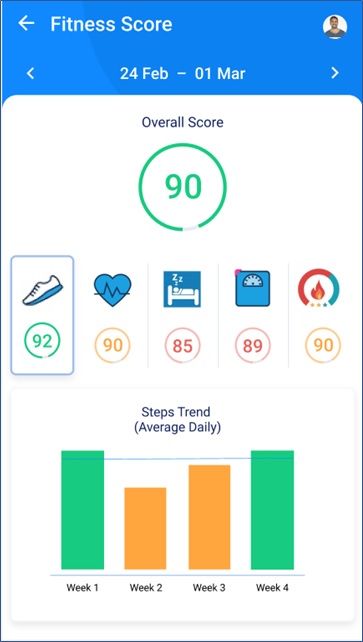 Unified Architecture supports multiple devices
Weekly trend and normalized scores and charts encourages user to improve and maintain his/her daily fitness and health regimen. Depending upon the features supported by the wearable device (such as heart rate monitoring, sleep monitoring), additional scores and trends can be shown.
Platform can also combine this information with other health related activities of the customer and offer relevant eco-system offerings (such as membership to fitness or yoga club), offer rewards and maintain engagement with the customer through the lifecycle of the health policy.
SenSight's cloud based IoT Architecture is highly scalable and secure and is designed to support millions of connected devices such as wearables and telematics devices. By having a common architecture that supports variety of devices across auto and health domain, we enable Insurers to offer a single point Loyalty App to remain engaged with the customer.
Apart from Insurance companies, corporates can use our Platform to launch affordable yet powerful, company wise health and safe driving initiatives with gamification and rewards for high performers.
Case Studies
Browse through some of our recent work in the domains of IoT, AI/ML and Cloud.
All
IoT Device
AI and ML
Cloud and Big Data
Web and Mobile App